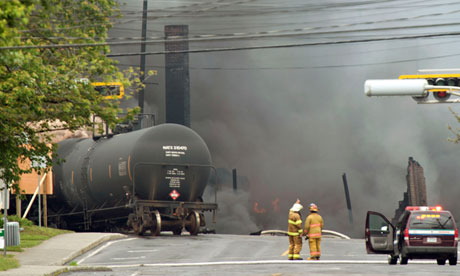 Thousands of residents in the Canadian town of Lac-Mégantic were evacuated early on Saturday, after a freight train carrying crude oil derailed, sparking a major fire.
Several tanker cars of petroleum products exploded in the middle of the small town in the Canadian province of Quebec, in a blast that destroyed many buildings and sent flames hundreds of feet into the air. Police in Lac-Megantic, a lakeside town of about 6,000 people, said they had been unable to determine if there were any casualties. Fire officials said around 30 buildings in the town center were destroyed, some by the blast and others by the subsequent fire.
"When you see the center of your town almost destroyed, you'll understand that we're asking ourselves how we are going to get through this event," a tearful town mayor, Colette Roy-Laroche, told a televised news briefing.
The Canadian Broadcasting Corporation said four pressurised tanker cars blew up after the train, which had 73 cars in all, came off the rails shortly after 1am. Fire officials said they feared more of the tanker cars were at risk of exploding. Around 1,000 people were evacuated from their homes.
Lac-Mégantic is part of Quebec's picturesque Eastern Townships region, close to the border with Maine and Vermont. Quebec is a predominantly French-speaking province in the eastern half of Canada.Satellite images show the railroad snaking through downtown, following a route parallel to the shore of the lake that the town is named after, before heading inland and crossing the US border to the west of town.